If I were to write a book or article for a cat magazine, it would be called, "How Not To Break Into the Cat Fancy", or perhaps, "How Not to Show a Cat". I think I have made every mistake a newbie can make- something a little mentoring would have cured, but it's a bit late for that now. I bought Ab through an ad in the paper (a no-no), I tried to find her a boyfriend but that didn't work out so I bought her one, a blue. No, I should have tried harder for a proven male, at least for the first date! I tried to show him, which was a roller coaster of frustration and excitement, mostly frustration. I should have paid attention when the local CFA Aby breeders did their level best to discourage me and keep me out of their little closed society, but I didn't.
In the summer of 1993 I found myself at the TICA Northeast Regional, showing Bo the Blue Aby Homeless Dude, who was just barely holding his own in his class. Benched next to me was his breeder, Sheila, with his competition and a new cat, something I had only seen briefly at an ACFA show when Bo was a kitten- a silver Somali. Her name was Foxy. My mother and I were both intrigued, and when Foxy's breeder told us that her sister, Lady was available, we were interested. We went home Saturday night to think about it. My mom also liked the Bengals and there was a local breeder there. We were thinking about that, too.
We arrived on Sunday morning, prepared to tell both breeders that we wanted to wait some more. I had some reservations about silver Somalis and wasn't sure I could live with a Bengal. As I got Bo settled in his cage for another day of fun in the show ring, my mom wandered around in search of that most important life-giving substance, coffee! She came back and said there was something I needed to see on the other side of the show hall.
She led me to a couple of cages with Abys and Somalis in them. I had seen one of the breeders and her cat in the rings the day before, and she had come over to our row to talk to Sheila. I didn't know she had Somalis! Sitting in one of the cages was a little fawn kitten for sale. I didn't think I wanted a Somali, and after seeing some fawn Abys and not being wild about them, I was sure I didn't want a fawn!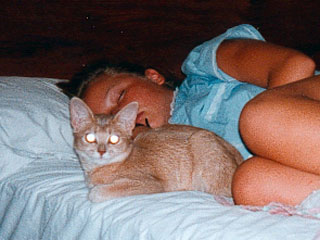 Photo: P. Desrosiers
But she WAS awfully cute, my mom liked her, and another breeder said that if I didn't take her, she would. Oh, the pressure! Of course I bought her. That little pink face was hard to resist! Of course I was going to show her. Add two more chapters to my "How Not To Break Into the Cat Fancy" book. Buying a cat at a show, especially from a breeder one doesn't know, is generally discouraged, and showing a fawn Somali, I found out, is not for the faint-of-heart, or the exhibitor who is in it only to collect rosettes and awards. The ladies all warned me that it would be hard. Her breeder assured me she was a very nice fawn but that I'd be lucky to grand her.
Not granding cats was something I knew a lot about!
Gigi didn't have a name other than that, "Gigi", the nickname her breeder gave her, but before she was officially mine, "Nenuphar Pen-Ding" was entered in her first show, the TICA Annual, their biggest show of the year!